Comment terminer ou mettre fin poliment à une conversation ?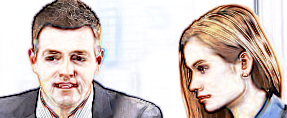 Il y a des cas où on se sépare naturellement de quelqu'un à la fin d'une conversation et des cas où l'on veut mettre fin prématurément à une conversation, alors comment s'y prendre en anglais sans passer pour un "malpoli" ?
En anglais, la façon de s'exprimer au moment où l'on quitte quelqu'un est très importante. N'oubliez pas qu'elle donne des indications à votre interlocuteur sur la suite de vos relations, sur votre envie ou pas de revoir cette personne, etc. Quoi qu'il en soit, c'est un moment important, comme un cérémonial auquel les anglophones sont sensibles. Alors, que ce soit sincère ou pas, vous ne pouvez pas quitter quelqu'un de manière abrupte, à moins que vous vouliez montrer que vous êtes fâché. Il faut donc veiller à dire les choses selon les habitudes anglophones et savoir quoi dire dans tel ou tel cas.
Je vous donne donc quelques suggestions pour vous permettre de prendre congé de la personne poliment quel que soit le cas de figure, sans qu'elle ne voie que vous êtes pressé d'y aller ou sans qu'elle n'ait l'impression que vous cherchiez à lui fausser compagnie.
1 Les expressions suivantes sont des musts comme introduction de fin :
« Excuse me, but I have to leave! » (Excuse/z-moi, mais il faut que j'y aille/on m'attend !)
« I'm sorry, but I have to leave! » (Je suis désolé/e, mais il faut que j'y aille/on m'attend !)
« Please excuse me, … » (Excuse/z-moi STP/SVP ou veuillez m'excuser, …)
Rejoignez-moi sous l'ESPACE PRO pour les expressions à utiliser, par exemple, quand je veux me séparer de quelqu'un, mais que je ne sais pas comment m'y prendre, quand je veux partir, mais que je n'ai pas de vraies excuses, etc. A tout de suite !