Verbes de MOUVEMENT et de GESTUELLE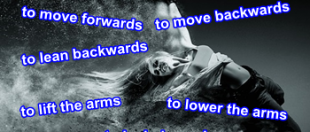 Lorsque vous voulez raconter ce qui est arrivé ou décrire une situation, vous avez besoin d'un grand nombre de VERBES DE MOUVEMENT et de GESTUELLE. Afin d'être à l'aise en anglais, je vous propose d'en voir les principaux. Ce sont des verbes courants dont vous aurez toujours besoin. Quels sont-ils ?
bouger = to move
avancer = to move forwards
reculer = to move backwards
s'approcher de = to come up to
s'éloigner, prendre du recul (pr. + fig.) = to step back, to take a step back
se tourner vers = to turn towards
se pencher sur ou en arrière = to lean over/towards, to bend over (pr. + fig.) or to lean backwards (pr.)
lever les bras = to lift the arms
baisser les bras (pr. et fig.) = to lower the arms
tendre la main = to hold out one's hand
tendre le bras, la main vers = to stretch out, to reach (out) for… (pour attraper qqch.)
attraper = to catch
tendre ses clés à qqn = to hold out one's keys to sb.
tendre l'oreille = to prick up one's ears
se précipiter = to rush at/towards/into
se précipiter à la rencontre de qqn = to run to meet sb.
écarter les bras = to outstretch the arms
DECOUVREZ LA SUITE DES VERBES DE MOUVEMENT SOUS L'ESPACE PRO EN  CLIQUANT EN HAUT. A TOUT DE SUITE !
[(pr.) = sens propre / (fig.) = sens figuré]