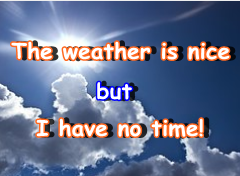 Voici quelques exemples pour vous aider à parler anglais avec les bons mots.
En anglais, comme en français d'ailleurs, il y a plusieurs manière de traduire un mot français.
PAR EXEMPLE :
Je vais traduire différemment :
Il fait beau temps = the weather is nice et
Le temps passe vite = time flies
Il y a donc 2 mots différents pour exprimer le mot "temps"
Je vais également distinguer :
… profiter de ses vacances et profiter de la situation : to enjoy/take advantage of, comme dans
I enjoyed my holiday = j'ai (bien) profité de mes vacances
He took advantage of the situation to steal money = il a profité de la situation pour voler de l'argent
… faire attention (être prudent) et faire attention à ce qui se passe : to be careful (cautious)/pay attention to …, comme dans l'exemple :
Be careful (cautious) on the road! = fais attention sur la route !
Pay attention to what he's saying! = fais attention à ce qu'il te dit !
… la chance que l'on a et la chance que cela arrive : luck/chance, comme dans :
You are very lucky or Good luck! = tu as beaucoup de chance ou Bonne chance !
There is little chance that … (singulier) = il y a peu de chances que …
Il y en a des centaines comme ça et c'est pour cela que c'est bien de s'immerger le plus possible dans la pratique.