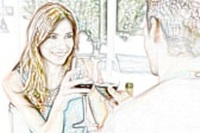 Vous est-il déjà arrivé de devoir vous présenter ou parler de vous en anglais? Si vous voulez avoir des contacts avec des anglophones, c'est indispensable. Et c'est un très bon exercice pour s'entraîner à s'exprimer. Dans ce but, voici quelques idées simples :
My name is … and …
My name is John/Laura (Je m'appelle John/Laura) and
I'm 20 years old (J'ai 20 ans)
I was born in Paris (Je suis né,e à Paris)
I'm French, but … (Je suis français,e, mais …)
I live in London (Je vis à Londres)
I have been living in London for 2 years now (Je vis à Londres depuis 2 ans maintenant)
Some more details about me (Quelques autres détails à mon sujet):
I have one brother and one sister (J'ai un frère et une sœur)
I'm single/married/divorced (Je suis célibataire/marié,e/divorcé,e)
I speak French and English (Je parle français et anglais)
My parents are French too (Mes parents sont aussi français)
I'm a secretary, etc. (Je suis secrétaire, etc.)
I work for XYZ (Je travaille pour XYZ)
I have been working for XYZ for 2 years now (Je travaille pour XYZ depuis 2 ans)
I'm looking for a job (Je cherche un job, du travail)
I just changed my job (Je viens de changer de travail)
I earn a good living (Je gagne bien ma vie)
I attend Spanish courses (Je suis des cours d'espagnol)
I like …, my hobbies are: (J'aime …, mes hobbys/passe-temps favoris sont):
. travelling (voyager, les voyages)
. surfing the Net (surfer sur le net)
. reading (la lecture)
. listening to music (écouter de la musique)
. cooking (cuisiner)
. playing sport (faire du sport)
Etc.
I don't like … (Je n'aime pas …):
War (la guerre)
Horror movies (les films d'horreur)
Poverty (la pauvreté)
Stupidity (la bêtise)
Selfishness (l'égoïsme)
Wickedness (la méchanceté gratuite)
Lies (les mensonges)
Etc.
My dreams: I want to … (Je veux, j'aimerais …):
. become a millionaire (devenir millionnaire)
. go around the world (faire le tour du monde)
. meet the love of my life (rencontrer l'amour de ma vie)
. become a celebrity (devenir une personne célèbre)
. become a doctor/physician (devenir médecin)
. have many children (avoir beaucoup d'enfants)
. go to the moon (aller sur la lune)
. work in humanitarian aid/do humanitarian work (travailler dans l'humanitaire)
Etc.
Je vous laisse compléter la liste par vous-même en utilisant les dictionnaires et les exemples à disposition en ligne.
A la prochaine