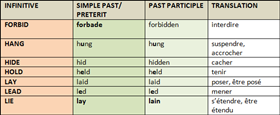 Hello and thanks for following!
After the "38 basic irregular verbs" of May's article, I prepared for you an exercise about the common but difficult IRREGULAR VERBS you absolutely need to know. The tip I used when I had to learn them very quickly is to put them into short sentences, in context, as in this exercise.
If you need some help, you can easily have a look at the verb list below. The key is on ESPACE PRO!
You will notice by doing it that this kind of training really helps memorise the verbs!
Have a nice training and, above all, enjoy learning English!
Cordially
Cathy
EXERCISE ABOUT IRREGULAR VERBS (WITH KEY ON ESPACE PRO)
TRANSLATE FROM FRENCH TO ENGLISH (with verbs of the list below)
Il

a perdu

patience.
L'autre jour, j'

ai serré

(= secoué) la main du président / Tu n'

aurais pas dû secouer

ce flacon.
Elle

a cherché

toute la journée une solution.
Il

s'est fait battre

aux échecs / Il y a deux jours, il l'a battu aux échecs.
J'

ai choisi

le chien dont j'avais rêvé / Hier, j'ai choisi le menu no 2.
Il a été mordu par un chien / Il l'a mordu la semaine passée.
Je t'

avais interdit

d'y aller ! / Hier, je t'ai interdit d'y aller !
J'ai suspendu le tableau au-dessus du lit.
Il

s'est étendu

sur le canapé.
Le chat a posé sa souris délicatement, puis il l'a cachée sous la table.
Elle

a

toujours mené une vie très remplie / Il

a

bien

mené

ses affaires l'an passé.
Le joueur a shooté et

a glissé

sur le sol.
Elle s'est efforcée d'être un modèle pour les autres.
Il

a déchiré

le coupon et l'a collé sur le formulaire.
L'enfant cracha/a craché par terre, mais c'

était interdit

.
Il

s'est balancé

trop fort !
Le concierge

a balayé

le corridor.
Le magasin sentait mauvais le soir.
Ils furent frappés par son attitude autoritaire.
La guêpe l'

a piqué

au bras.
Il

était/a été debout

toute la soirée, il n'était jamais assis.
Il a joué à pile ou face (= il a fait tourner la pièce).
Il était/a été assis toute la journée.
Il

a fermé

le portail à 22 h. / Le portail a été fermé à 22 h.
Hier, ce qui m'a frappé, c'est sa détermination !
DIFFICULT BUT COMMON IRREGULAR VERBS
| | | | |
| --- | --- | --- | --- |
| INFINITIVE | SIMPLE PAST/ PRETERIT | PAST PARTICIPLE | TRANSLATION |
| BEAT | beat | beaten | battre |
| BITE | bit | bitten       | mordre |
| CHOOSE | chose | chosen | choisir |
| DREAM | dreamt | dreamt | rêver |
| FORBID           | forbade     | forbidden | interdire |
| HANG | hung | hung | suspendre, accrocher |
| HIDE | hid | hidden | cacher |
| HOLD       | held | held | tenir |
| LAY | laid | laid | poser, être posé |
| LEAD | led | led | mener |
| LIE | lay    | lain | s'étendre, être étendu |
| LOSE [à ne pas confondre avec : | lost | lost | perdre |
| LOOSE (oneself)] | [loosed] | [loosed] | (se) détacher |
| RIDE        | rode | ridden | conduire, aller à bicyclette/cheval |
| SEEK | sought | sought | chercher |
| SHAKE | shook | shaken | secouer |
| SHOOT     | shot | shot | tirer |
| SHUT (= close) | shut | shut | (se) fermer |
| SIT | sat | sat | être assis |
| SLIDE | slid | slid | glisser |
| SPIN (round) | spun | spun | (se re)tourner |
| SPIT | spat | spat | cracher |
| STAND | stood | stood | être debout |
| STICK | stuck | stuck | coller |
| STING | stung | stung | piquer, brûler |
| STINK (of) | stank | stunk | sentir mauvais |
| STRIKE | struck | struck | frapper |
| STRIVE     | strove | striven | s'efforcer |
| SWEEP | swept | swept | balayer |
| SWING | swung | swung | (se) balancer |
| TEAR | tore  | torn | déchirer |