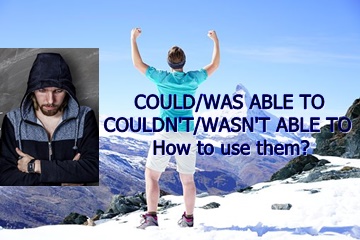 Could or was able to (pour traduire a pu ou pouvait, savait, etc.)
Could or was able to, dans quel cas faut-il utiliser could et dans quel cas faut-il employer able to ?
En plus d'être un conditionnel, COULD est la forme passée de CAN, mais COULD ne peut pas toujours être utilisé pour traduire A PU/POUVAIT/SAVAIT+VERBE…, comme dans « il a pu venir ». Très souvent, on doit utiliser la forme WAS ABLE TO… Par contre, dans le cas de COULDN'T, la forme négative de COULD, c'est plus simple. Cette règle est valable pour toutes les autres personnes aussi, bien entendu. Je vous explique cela juste après et vous donne plusieurs exemples pour y voir clair, car ce n'est pas toujours évident… On se retrouve sur l'ESPACE PRO (vous avez juste à cliquer en haut !). Voici un extrait de ce que vous allez y découvrir :
VOICI LES CAS OÙ ON PEUT SANS PROBLÈME UTILISER COULD (dans le sens de : POSSIBLE or ALLOWED TO or ABLE TO DO STH.)
MAINTENANT LES CAS OÙ « WAS ABLE » EST NÉCESSAIRE

FORME NÉGATIVE : COULDN'T EST POSSIBLE ET GÉNÉRALEMENT UTILISÉ DANS TOUS LES CAS sauf exceptions (voir sous 4 et 5)
FORME NEGATIVE OÙ COULDN'T N'EST PAS POSSIBLE (exception)
FORME NEGATIVE OÙ BE ABLE EST NÉCESSAIRE (exception)
Je vous attends sur l'Espace Pro, cliquez en haut !