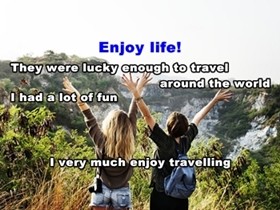 Pleasure Expressions/Expressions de plaisir en anglais – Expressions qui s'y rapportent – Related Expressions – KEY
27 phrases related to moments of PLEASURE / 27 phrases qui se rapportent à des moments de PLAISIR, afin de parler anglais comme un natif. Apprendre l'anglais dans un contexte ou en situation, c'est bien plus efficace (the French phrases are below / les phrases en français sont en bas):
Avant cela, sachez que ma méthode EMTC vous donne toutes les BASES INDISPENSABLES DE L'ANGLAIS COURANT pour parler fluently www.apprendre-l-anglais.net

REPONSES – ANSWERS
I enjoyed myself, I had a lot of fun
I was very pleased to see you!
(You just received flowers) I'm delighted with this! I'm very pleased (with this)!
I very much enjoy travelling
Enjoy life! You should enjoy life!
I enjoyed a lot! I had a lot of fun/pleasure! It was a real pleasure!
You should profit from this experience
I enjoyed this dinner very much!
I (greatly) enjoyed going to the cinema!
I'm only too pleased to take you home
They enjoyed holidays
He has always enjoyed/been enjoying a good health/He has always benefited from a good health
I took pleasure/delight in seeing all those photos again
I shall go just to keep you happy! …if it will make you happy/…if it will give you pleasure!
He took (a mischievous) delight in deceiving you
I did it just for pleasure
This kid is full of the joys of life/This kid is full of joie de vivre
It was bliss! What a bliss! What a delight!
She was lucky enough to travel around the world
Are you satisfied with your new car ?
I hope this solution satisfies you/I hope you are satisfied or happy with this solution/I hope you find this solution satisfactory
My new position gives me complete satisfaction
I did it to please him
I did it just for pleasure
It's with great pleasure that I am able to announce that this exercise is finished!
(It's) my pleasure!
See you again!
Phrases en français (rappel) :
Je me suis bien amusée
Cela m'a fait très plaisir de vous voir !
(Vous venez de recevoir des fleurs) Cela me fait très plaisir !
Je prends beaucoup de plaisir à voyager
Profite de la vie ! Il faut jouir de la vie !
J'ai beaucoup apprécié ! J'ai eu beaucoup de plaisir !  Cela a été un vrai plaisir !
Tu devrais tirer profit de cette expérience
Ce repas m'a fait très plaisir ! J'ai beaucoup apprécié ce repas !
Cela m'a fait (très) plaisir d'aller au cinéma !
Je me fais un plaisir de vous raccompagner
Ils ont passé de bonnes vacances
Il a toujours joui d'une excellente santé
J'ai eu du plaisir à revoir toutes ces photos
J'irai juste pour te faire plaisir ! … C'est bien pour te faire plaisir !
Il a pris un malin plaisir à vous tromper
Je l'ai fait juste pour le plaisir
Ce garçon est plein de joie de vivre
Quel bonheur !
Elle a eu le bonheur de pouvoir voyager à travers le monde
Êtes-vous content/satisfait de votre nouvelle voiture ?
J'espère que cette solution vous satisfait
Ma nouvelle situation me donne entière satisfaction
Je l'ai fait pour lui faire plaisir
Je l'ai fait juste pour le plaisir/par plaisir
J'ai le grand plaisir de vous annoncer que cet exercice est terminé !
Tout le plaisir est/était pour moi ! C'est/C'était un plaisir !
Au plaisir !