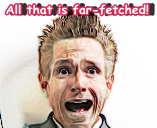 Les Expressions et Tournures utiles permettent d'être original quand on parle anglais et pour vous permettre de les apprendre plus facilement, je vous ai préparé un genre de mini-histoire avec des expressions courantes. Je les ai groupées de façon à ce que l'ensemble ait un sens. Prises dans un contexte, elles sont plus faciles à retenir.
Vous remarquerez, en les lisant, qu'elles ne peuvent pas se traduire littéralement de français en anglais. Je vous propose donc de lire ces phrases en vous en imprégnant. Sachez que cet exercice demande votre collaboration, car les transitions entre les phrases font appel à votre imagination et interprétation.
Mais d'abord :
Il s'agit d'expressions anglaises = It's about English expressions
Quand il s'agit d'apprendre l'anglais, tout le monde est d'accord = When it comes to learning English, everybody agrees
Vous avez l'embarras du choix ! = You are spoilt for choice!
Mais, arrêtez de tourner autour du pot !, me direz-vous = No beating around the bush with me!, you might say

Alors entrons dans le vif du sujet ! = So let's get to the very heart of the matter!
L'Espace Pro vous livre la suite de l'article, alors à tout de suite !