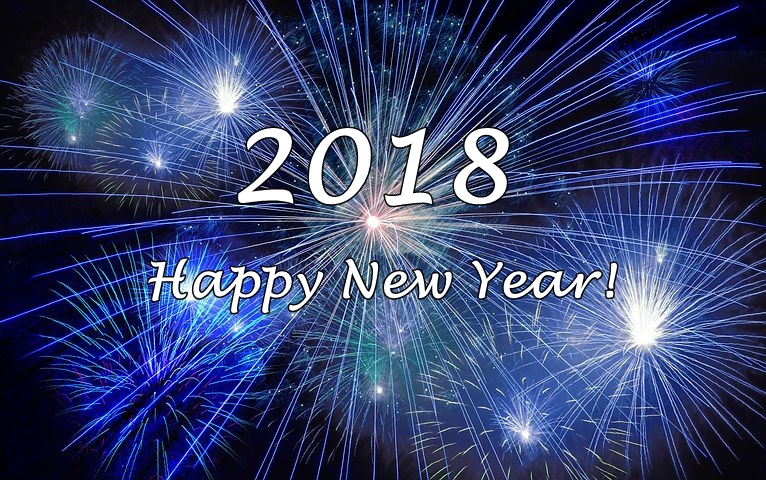 Hello to you, followers of www.parlerlanglais.net!
I hope you started 2018 well!
What are your good resolutions for 2018?
Here is the kind of questions you or other people might ask themselves or others regarding 2018. As an English New Year training, I suggest that you chose 3 QUESTIONS in the list below and that you try to answer them using the ANSWER SUGGESTIONS just after (beginning and end, from general to specific). This is also a way to define what your priorities for 2018 are:
Voici le genre de questions que vous ou d'autres personnes se posent à elles-mêmes ou aux autres concernant 2018. Comme entraînement d'anglais de Nouvel An, je vous suggère de choisir 3 QUESTIONS de la liste ci-dessous et d'essayer d'y répondre en utilisant les SUGGESTIONS DE REPONSES juste après (début et fin, général et spécifique). C'est aussi une manière de définir quelles sont vos priorités pour 2018:
QUESTIONS:
What are your good resolutions for 2018? What resolution did you make?
What is your top priority for 2018?
What did you decide for 2018?
What do you intend to do in 2018?
What do you expect (that) 2018 will bring you?
ANSWER SUGGESTIONS/SUGGESTIONS DE REPONSES
Beginning/début:

I made a resolution to…
My top priority for 2018 is to…
I'm firmly/strongly determined to…
I made up my mind to…
I decided to…
I intend to… / I aim at… (+ -ing) / I envisage… (+ -ing) / I plan to…
I want to, I wish to…
End/fin, from general to specific:
– learn a foreign language, improve my English skills or learn English
– change my job, get a promotion, find a better job
– focus on my goals/aims: pass my driving licence, get my diploma or degree…
– live to the full, enjoy life
– put the emphasis on what is essential
– attach importance to the most important things in life
– dedicate more time to others: spend more time with family, my children
– be responsive to other people's needs (à l'écoute, sensible)
– commit myself to helping my fellow man (mon prochain)

– not be too exacting with my nearest and dearest (les êtres chers)
– not waste time unsignificantly (de manière insignifiante)
– spend money more cleverly, spend less money on insignificant things (choses futiles)
– work less and have more free time
– dedicate my free time to enriching and rewarding experience
– live more healthily: stop smoking, get more sleep, drink less, move more…
– do more sport/exercise more: go to the gym three times a week…
– lose weight: lose 4 kilos…
and the like…
A vous de compléter la liste à votre manière ! Up to you to complete the list the way you like!
Juste un petit conseil: soyez précis lorsque vous voulez atteindre un but (objectif spécifique) ! Just a little tip: be accurate when you want to reach an aim (specific objective)!
Et puis, n'oubliez pas que si vous avez besoin d'aide pour apprendre l'anglais en ligne, vous pouvez me contacter par le formulaire sous CONTACT
I hope your good resolutions will become alive and that your dreams will come true! J'espère que vos bonnes résolutions prendront vie et que vos rêves se réaliseront !
Bye for now, and Happy New Year!
Cathy