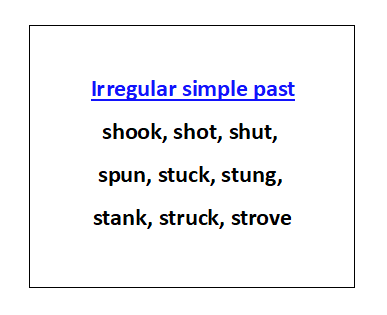 Difficult irregular verbs – Exercise / Verbes irréguliers difficiles en anglais – Exercice: simple past and present perfect

Try to translate the following sentences. You will find a list of the verbs in the infinitive just below. Take a look at the answers on Espace Pro!
Les phrases au passé composé en français peuvent être traduites de 2 manières en anglais (sauf dans certains cas), par le simple past ou le present perfect. Dans cet exercice, vous pouvez directement traduire des 2 façons; quand ce n'est pas possible, vous trouverez 2 phrases différentes. Dans cet exercice, les phrases sont volontairement très courtes pour la mémorisation. A vous de jouer maintenant !
Exemple :
0. to beat, beat, beaten – Il a battu le record = he beat the record, he has beaten the record.
PHRASES :
Un chien l'a mordu
L'avion a volé du nord au sud
Michael a suspendu le tableau au mur
Son père lui a interdit d'aller à la fête
Il a caché son argent sous le matelas
Les gens ont tenu fortement la poignée pour ne pas tomber
Il a posé les documents sur le bureau
Ce sont elles qui ont mené le meeting
Il n'a jamais prêté quoi que ce soit de sa vie
Elle est restée étendue sur la plage toute la journée
Elle a fait du vélo une seule fois
Le train l'a fortement secoué
Le joueur a shooté trois fois dans le ballon et est parti
Mike a fermé la porte
Le tennisman a glissé de gauche à droite
Qui a craché par terre ?
Il a fait tourner dix fois son parapluie en l'air
Ils ont collé des affiches
Une abeille l'a piqué
Le gars sentait mauvais (= simple past) – Ça a senti mauvais pendant deux jours
Ils ont conclu l'affaire
Ils ont lutté pour réussir !
Elle s'est balancée dangereusement sur sa chaise
Suzan a très souvent pleuré
Il s'est réveillé très tôt
Mes baskets se sont usées en deux mois
Voir autre exercice du même genre
Liste des verbes irréguliers à l'infinitif :
to bite
to fly
to hang
to forbid
to hide
to hold
to lay (poser à plat)
to lead
to lend
to lie = être allongé, étendu; (place) se trouver
to ride
to shake
to shoot
to shut
to slide
to spit
to spin
to stick
to sting (a sting = dard)
to stink
to strike
to strive
to swing
to tear
to wake = (se) réveiller
to wear out
Les corrections se trouvent sur l'Espace Pro, vous avez juste à cliquer en haut !