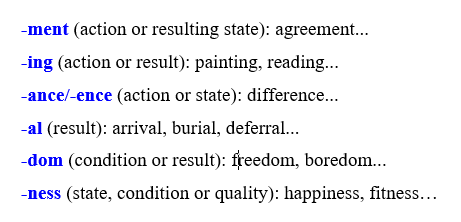 Today, let's discover the NOUN SUFFIXES or the NOUN ENDINGS (fins de noms anglais, suffixes des noms anglais). This is a subject that will help you in word transformation, when you have to form nouns based on adjectives or verbs. Here is some examples of suffixes. You will find the whole list clicking on ESPACE PRO above!
EXAMPLES OF NOUNS WITH ALL THE DIFFERENT SUFFIXES OR ENDINGS POSSIBLE:
-tion/-sion/-ction (process, state or result): demonstration, action, contribution; immersion, admission, inclusion; connection, addiction
-ment (action or resulting state): development, agreement, argument
-ing (action or result): painting, reading, travelling
-ance/-ence (action or state): importance, instance; defence, difference, adolescence
-ancy/-ency (state or quality): vacancy; emergency, fluency
-age (process, result, place, social aspect or measure): coverage, package, carriage, wastage, garage, marriage, shortage
-al (result): arrival, burial, deferral
Discover 23 more SUFFIXES on ESPACE PRO! See you there!