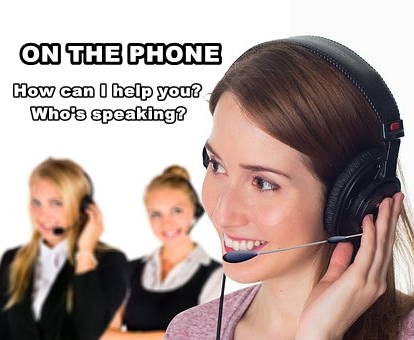 Salut à tous ! Aujourd'hui, nous allons voir comment SE DÉBROUILLER AU TÉLÉPHONE ou "on the phone" afin de parler anglais en toutes circonstances. Il y a ce que vous dites ou demandez, ce qu'on vous dit, répond ou demande, puis des phrases sur les problèmes qui peuvent se présenter, et enfin, l'alphabet phonétique qui vous permet d'épeler votre nom ou autre. Je vous livre donc les phrases essentielles "to cope with the phone calls in English" (pour se débrouiller, s'en sortir avec les appels téléphoniques en anglais) :
Before calling
I have to consult/check Directory Enquiries, Yellow Pages, White pages… = Je dois consulter l'annuaire, les pages jaunes, les pages blanches…
I want to make a phone call to Australia = Je désire faire un appel en Australie
What is the code for Paris? = Quel est l'indicatif pour Paris ?
Problems when calling
It's engaged = Ça sonne occupé
I can't get through at all = Je n'arrive pas à obtenir le numéro
The number is not ringing = Ça ne sonne pas
I've got the wrong number = J'ai fait un faux numéro
The phone is out of order = Le téléphone est en dérangement
You begin saying…: Good morning, afternoon…
John Edwards speaking… = John Edwards à l'appareil…
I'm calling to (get some information about…) = J'appelle pour avoir de l'information sur…
…and asking: … to be continued on Espace Pro, just click above!