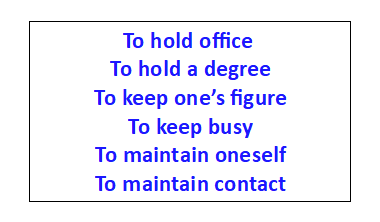 Parler anglais facilement avec ce nouveau sujet : to hold, keep, maintain… or garder, conserver, maintenir… – Expressions
Quelles sont les principales expressions utiles avec les verbes to HOLD, KEEP, MAINTAIN… ou comment traduire les principales expressions utiles avec les verbes GARDER, CONSERVER, MAINTENIR… en anglais ?
Exemples d'expressions avec TO HOLD
To hold office = occuper un poste, être en poste, exercer ses fonctions
To hold tight = tenir bon, se cramponer / camper sur les positions
To hold a meeting = organiser une réunion, tenir conseil
To hold a degree = détenir un diplôme universitaire
…
Voici maintenant quelques expressions avec TO KEEP
Keep cool! = Garde ton calme !
To keep one's figure = garder la ligne (body)
To keep a shop = tenir un magasin
How are you keeping? = Comment te portes-tu?
To keep one's eyes shut = garder les yeux fermés
…
Et puis d'autres avec TO MAINTAIN
To maintain law and order = faire respecter la loi et l'ordre
To maintain standards = maintenir les standards
…
Get the end of the article clicking on ESPACE PRO above, see you there!