INTERJECTIONS, how do you say: Zut, Aïe, Chut, Mon Dieu, Ça alors !… in English?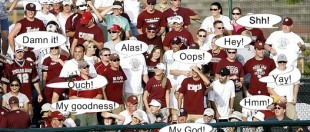 Les interjections sont partout quand on veut parler anglais, tout comme quand on s'exprime en français, mais elles sont très différentes en anglais, en dehors de Ah! Oh! ou Bingo! Vous en trouverez juste après un échantillon, alphabétique, ainsi que des exemples pour certains d'entre eux. Accédez à la totalité de la liste en cliquant sur l'Espace Pro en haut !
A droite des INTERJECTIONS, vous trouverez les SITUATIONS où elles s'utilisent ou bien la TRADUCTION FRANCAISE :
INTERJECTIONS, alphabetical list: When are they used? When…
Aah! = …you are afraid – Aah! This spider made me scared!
Ah! = like in French
Ahh! = you realize or accept something – Ahh! I thought it was different.
Alas! = you regret that it is how it is – Alas, she is ill!
Aww! = something is sweet or cute – Aww! This kitten is so cute! (= little cat)
Bingo! = you acknowledge something as right = like in French: Bingo !
(Familier) Damn it! = Zut ! Mince !
Dear, dear, dear! = Oh là là !
Dear me! = Mon Dieu !
Eek! = Argh ! = you are afraid or alarmed – Eek! I nearly fell into this hole!
Eh! = you question something – What do you think about it, eh?
Er! = you don't know what to say or you are hesitating – The Himalaya is…. er … in Asia!
Eww! = something is disgusting – Eww! This sauce is uneatable!
For God's sake! = Pour l'amour de Dieu !
Good grief! = Mon Dieu !
Good heavens! = Mon Dieu ! Bonté divine !
Goodness knows! = Dieu sait !
Goodness me! = Bonté divine !
Great! = Génial !
Hell! = Diable ! – What hell are you doing?
Hey! = you are calling attention, expressing surprise, joy…
Hmm! = you are thinking or hesitating, or you are expressing doubt – Hmm, I'm not sure about it.
Hmph! = you are not pleased with something – Hmph, it's not very relevant information! (= pertinent/e)
Hum! (or Hem!) = you are hesitating – Let's… hum… let's leave now, it's getting late!
CLIQUEZ SUR L'ESPACE PRO POUR LA LISTE COMPLETE. Je vous y retrouve…